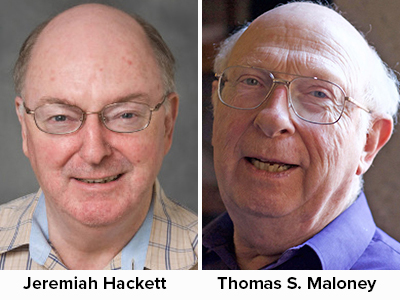 The Franciscan Institute awards its highest honor to Dr. Jeremiah Hackett and Dr. Thomas Maloney ​
Jul 21, 2022
Jeremiah Hackett, professor of philosophy emeritus at the University of South Carolina (Columbia). and Thomas S. Maloney, professor of philosophy emeritus at the University of Kentucky (Louisville), were presented with the Franciscan Institute Medal at St. Bonaventure University by the director of the Institute, Fr. David B. Couturier, OFM Cap.
The medal is awarded in recognition of meritorious excellence in medieval scholarship and Franciscan studies.
The award was announced at a gathering of scholars at the Roger Bacon Symposium hosted by Zoom at Saint-Bonaventure University. The keynote address for the conference was a lecture by Hackett on the soon to be published joint work by him and Maloney on Roger Bacon's "Philosophia Moralis"." (Franciscan Institute Publications, 2022).
Hackett's research interests lie in the areas of history of philosophy, metaphysics, philosophy of mind, epistemology, and moral philosophy. He has published widely and is currently interested in Roger Bacon and Averroism. Recently, he had the honor of receiving a Festschrift, "The Philosophy and Science of Roger Bacon: Studies in Honor of Jeremiah Hackett", edited by Nicola Polloni and Yael Kedar (Routledge: 2021).
Maloney's major is medieval philosophy, but he has also taught courses in ancient Greek philosophy and philosophy of religion. He has published widely and his area of ​​research is medieval logic and semantics, with a focus on Roger Bacon. He is working on a new edition and translation into Latin of Bacon's "Opus minus". Among his many publications is "Roger Bacon: 'A Compendium of the Study of Philosophy'" edited by Thomas S. Maloney (Oxford: 2019).
Roger Bacon was a medieval English philosopher and Franciscan friar. Known for his academic distinction, "Doctor Mirabilis", Bacon is also recognized as the father of the modern empirical method in science.
"The publication of Prof. Hackett's and Prof. Maloney's exquisitely annotated translation of the 'Philosophy Moral" marks an important step in the contemporary revival of interest in the interdisciplinary work of Roger Bacon," said Fr. David. He noted that Bacon's commitment to exploring the relationship between the liberal arts and their reflection of the divine in the world is particularly relevant to those seeking a holistic/holistic perspective on the role of education in the pursuit of wisdom.
For other recent news about the Franciscan Institute, visit www.sbu.edu/franciscaninstitute.
_____________
About the University: The nation's first Franciscan university, Université Saint-Bonaventure is a community committed to transforming the lives of our students inside and outside the classroom, inspiring them with a lifelong commitment to service and citizenship. St. Bonaventure was named the 5th regional college value in the North in the 2022 edition of US News and World Report's College Rankings.