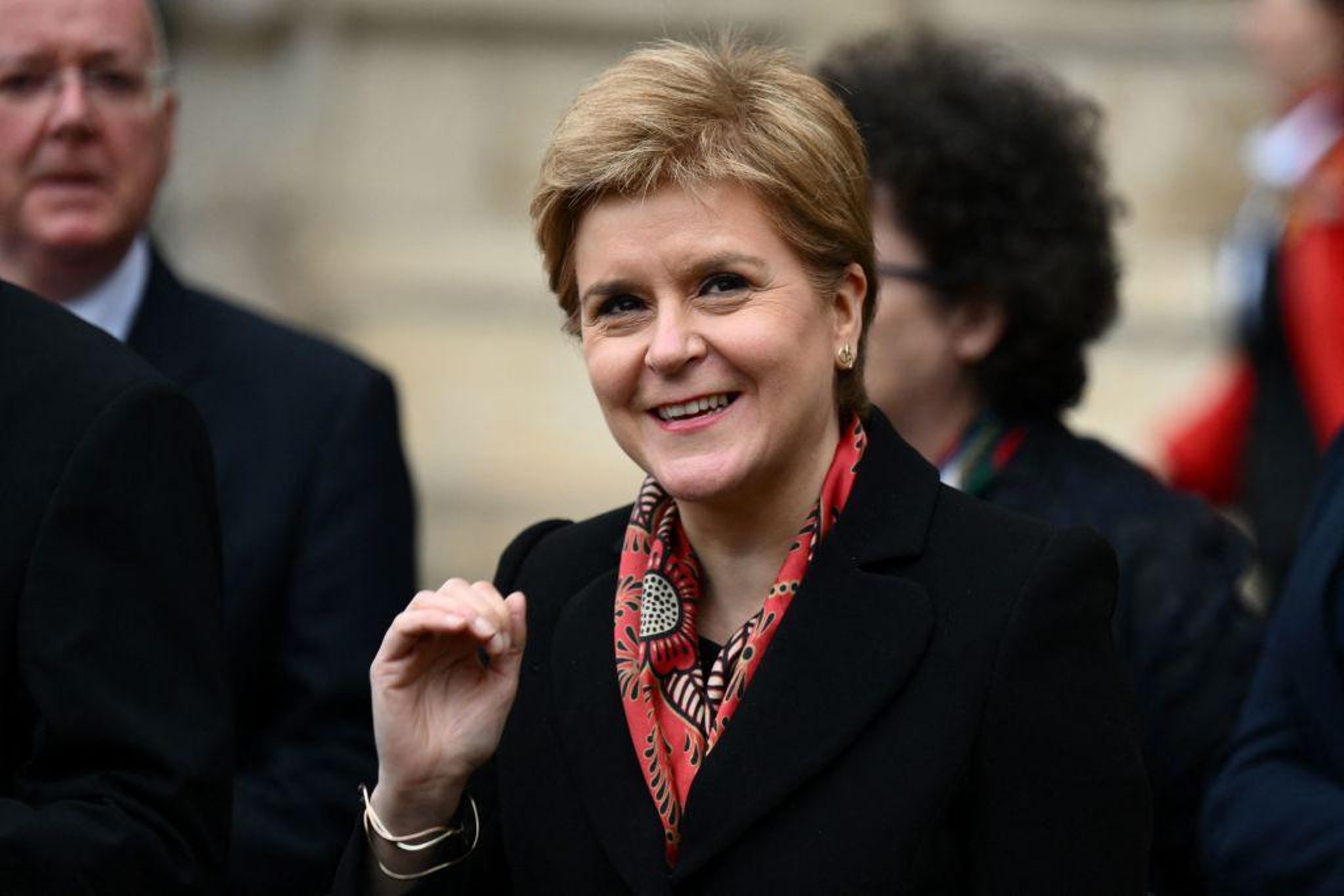 Letters from the readers: No hidden motives for Covid 'advice'
Nicola Sturgeon leaves Westminster Abbey after the Thanksgiving service for Prince Philip on Tuesday (Photo: Daniel Leal/AFP via Getty Images)
As Nicola Sturgeon is well aware, but refuses to acknowledge, Scotland has a much higher incidence of Covid despite wearing face masks than England, which does not. Thus, she appears in a bar in Glasgow without one; but we have to wear one. She appears in Westminster for the Duke of Edinburgh's service of thanksgiving and wears none, although she insists they be worn in Scotland. Is it only in Scotland that face masks are supposed to protect us? The dignitaries who were at Westminster surely deserve an answer, as do the people of Scotland. So where are we now? We 'must wear face coverings' due to 'Scottish Government advice' when sitting on buses in Edinburgh, but that doesn't sound like advice to me. It seems obligatory, so why not say so? If we sit in a pub, however, we don't have to wear a mask. Scottish school children no longer need to wear masks when in class, but do so when moving around school. They then leave school and congregate without masks, so clearly the Covid bug swarms are not hovering in pubs or churches, but they are in shops, school corridors and buses. So you can say goodbye to Auntie Gladys without a mask, but you can't buy a poke of chips without wearing one. Only in Scotland.
Andrew HN Gray, Edinburgh
The Scottish Conservatives' confected outrage over face masks will surely come back to haunt them come election time.
We will not easily forget that in an ongoing global pandemic with an NHS under intolerable pressure, Douglas Ross and his Conservative cohort wanted us to be fully exposed to the deadly mutant virus at its epicenter, without any reasonable public health precautions in square.
Alistair McBay, Methven, Perth
So Nanny Sturgeon descends on England where she avails herself of the freedom not to wear a mask during an indoor gathering, while subjecting the people of Scotland to a legal obligation to continue to wear masks on public transport, in indoor places and in places of worship. What hypocrisy! But it's getting worse. She then returns north of the border and decrees that Scots must continue to wear face masks for a few weeks. The sooner this self-centered megalomaniac is removed as Prime Minister, the better. (Remember how she told Donald Trump, the President-elect of the United States, that he was not wanted in Scotland; said that Boris Johnson, the Prime Minister-elect of the United Kingdom, no less, shouldn't come to Scotland either; and that Scots living in England shouldn't visit family in Scotland as Scotland's Covid rules were stricter. How's that for delusions of grandeur!) And then she also pontificates that NATO should consider imposing a no-fly zone in Ukraine on a daily basis. Something that could start World War III!
Now that the Metropolitan Police have issued 'Partygate' related fines, when can we in Scotland expect to see the outcome of Police Scotland's investigation into the £600,000 that has apparently disappeared from SNP funds. This was launched in June/July last year after the resignation of four SNP board members. Perhaps this report was given to the SNP, but as with all other reports that show the SNP in a bad light, it is currently being drafted by them before being released to the Scottish public.
William Hope, Longniddry, East Lothian
Read more
Read more
Covid Scotland: Nicola Sturgeon accused of bad example after not wearing my…
The Prime Minister is right to say that our political culture is more toxic now. I would also agree on the role of social media, which is akin to an unconstructive digital chasm. However, this must certainly be blamed on his own parties. Before 2014, I was largely comfortable with my identity; I was Scottish and British. I expect many have felt the same, moving along a continuum. In 2014, it was opened to attack for the first time. Was I Scottish enough? How much do I need to be Scottish? Was I a "collaborator" for wanting to vote No? The SNP has used every election, local and national, to campaign for another independence referendum where not only your political views are questioned, but also your sense of identity. Opposition parties must conscientiously and necessarily follow this example. Sturgeon has the power to put the clock back in the post-2014 world, but evidently chooses to exist in this "polarized and toxic" Scotland she laments.
David Bone, Girvan, South Ayrshire
I don't know why the Scottish minister responsible for explaining and defending the SNP ferry fiasco – to Holyrood and journalists – was Kate Forbes. By her own admission, she was not in office when the crucial decisions were made.
But many other ministers have been – Keith Brown, John Swinney, Humza Yousaf, to name a few. Why didn't Nicola Sturgeon task one of them – preferably Keith Brown, who was Minister of Transport, who presumably knew the details of the contract – to give a full explanation?
Ms Sturgeon was unsure of her contributions on this and perhaps felt she could not trust the relevant ministers to do better.
I guess that's why she handed innocent and ignorant Mrs. Forbes a hospital pass.Jill Stephenson, Edinburgh
Alex Salmond is fighting a one-on-one battle with his local council over a "great job" by a local craftsman (your report, March 31). Said great work is a large wooden sign saying "Yes", a one-word slogan that may be familiar to readers of a failed political campaign led by none other than Alex Salmond.
Mr Salmond says that "it is difficult not to see a political motivation behind this", but he does not explain whether he is referring to the blatant political sign he is displaying, or to the Council's response to "a billboard related to the elections". .
Aberdeenshire Council says Mr Salmond needs consent to display the sign.
The same way he needed consent to take Scotland out of the UK. What was the result of this?
It seems that the point was removed to "give full attention to the legal issues raised since the publication of the agenda", since "the Israeli authorities have disputed any consideration of the matter, even to consider negatively, as illegal, on the grounds that it "might" support Hamas – a listed terrorist organization".
This despite claims by the Gaza Council's media department that their municipal officials are appointed by the Ejtimaa meeting, a process similar to how tribal elders in a Jirga group appoint leaders in Afghanistan, and their denial. Hamas' involvement in local elections in Gaza.
The city council's decision follows an earlier warning from the British group Lawyers for Israel that councilors could face up to 14 years in prison if the proposed twinning with Gaza goes through.
It seems odd, at a time when we are all being asked to respect and uphold the rights of a sovereign country, and after years of being warned of another state's interference in our democracy and that of United States, that the agents of another state may openly and successfully threaten the chosen people of Edinburgh and determine for themselves with whom we may or may not develop friendly relations.
MJ Hauxwell, Galashiels, Scottish Borders
In April, every household in the Republic of Ireland will automatically receive £150 credited to their national electricity accounts, while businesses and domestic consumers in Scotland will face even higher bills than their English counterparts thanks to the Kingdom's energy policies. -United.
The ongoing daily charge set by the UK government-influenced body Ofgem rises by 100% in Scotland, to 47p or 48p, while in London consumers will pay just 31p a day.
Part of the hike will be used to fill the hole left by collapsing energy companies and taxpayers are already responsible for the £2bn bailout of Bulb Energy.
Scottish consumers are also suffering from discriminatory National Grid tariffs set by Ofgem, whereby our renewable energy industries pay the highest connection tariffs in Europe at £7.36 per megawatt hour, more than double our competitors closest in Yorkshire and Humberside which have attracted most investment
Amazingly, Norway can supply power to our national grid at a cost of £1.36 per megawatt hour.
France pays 17 pence per megawatt hour while Germany, the Netherlands and Luxembourg pay nothing to feed our network.
To make matters worse, the National Grid has sold a 60% stake in UK gas pipeline infrastructure to Australian investment firms for over £4bn and will seek to boost profits for UK consumers.
As the power is reserved for Westminster, things are unlikely to improve before Scotland gains independence.
Your thoughts are welcome. Write to [email protected] including name, address and telephone number – we will not print all the details. Keep letters under 300 words, with no attachments, and avoid "Letters to the Editor/Readers" or the like in your subject line. If you refer to an article, include the date, page number and title.
A message from the editor
Thank you for reading this article. We are counting on your support more than ever, as the change in consumption habits caused by the coronavirus has an impact on our advertisers. If you haven't already, consider supporting our trusted and verified journalism by signing up for a digital subscription. Click on this link for more information.