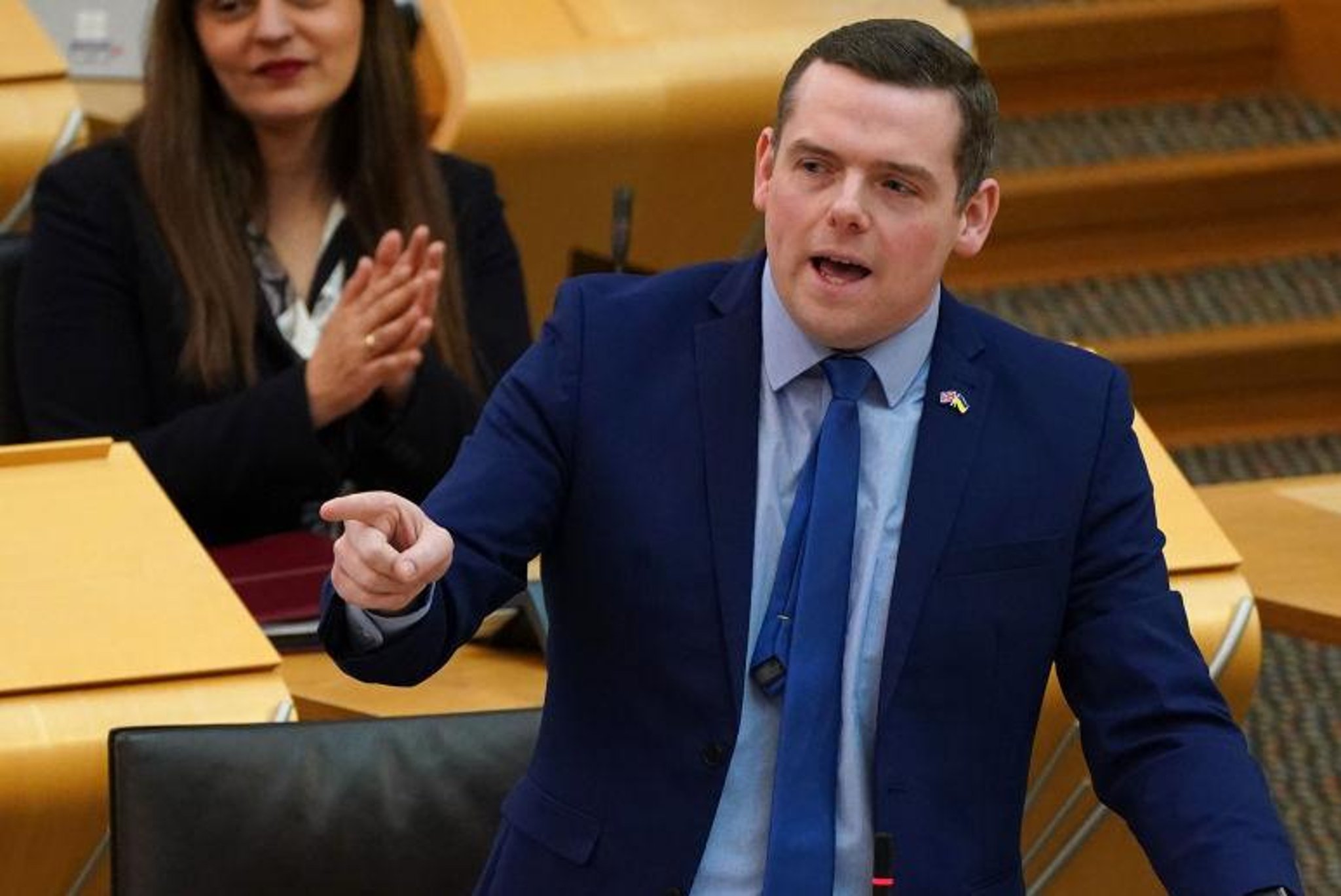 Letters to Readers | The Scottish
Scottish Conservative leader Douglas Ross during Prime Minister's Questions in the Scottish Parliament on March 24, 2022 (Photo: Andrew Milligan – Pool/Getty Images)
I was even more surprised that she chose to name disgraced former transport minister Derek Mackay as the person responsible for the original decision to award the contract in 2015. The Tory leader Scottish Douglas Ross rightly points out that this can be convenient for Scots. Government to blame someone who is no longer part of the regime; but he let the Prime Minister and the Cabinet go lightly with his call for a public inquiry. The public is tired of detailed and expensive investigations that point to a "systemic failure" and rarely point to an identifiable individual. If Mr. Ross thinks this is one of the worst public spending disasters since decentralization, he needs to go much further than that.
Mr. Mackay certainly had a high profile during the contract award period. He claimed a lot of political credit for helping to fix some of the problems with the structure of the Forth Bridge at the end of 2015. But he was not a minister at the time. His ultimate boss was certainly Ms Sturgeon, but in between was Cabinet Secretary for Infrastructure, Investment and Cities, Keith Brown. Are we really being asked to believe that Ms. Sturgeon and Keith Brown knew nothing about the contract award? Why was expert advice on business viability ignored? The Scottish government is not alone in presiding over botched public procurement. In the interest of public confidence in politics, however, it is necessary to say clearly what happened. Opposition parties need to be much more vigorous in questioning this stain on the reputation of the Holyrood government.
Bob Taylor, Glenrothes, Fife
So Nicola Sturgeon says the buck stops with her on the Ferguson Marine ferry fiasco! In any other area of ​​life, in any organization, the CEO presiding over such a financial, operational and business disaster would be fired…or perhaps would have the humility and moral decency to resign! No chance – as always the Scottish Government will 'conduct a review and learn from our mistakes'! You couldn't make it up – and we taxpayers are footing the bill for the staggering incompetence of these politicians who have never run any form of business in their lives!
Gordon Presly, Kilmarnock
Sturgeon blissfully blamed Derek Mackay for the Ferguson ferry debacle. She should be wary of the repercussions of this cowardly action. "Hell has no fury like a trusted former colleague, who knows where the skeletons are buried, despised."
James Quinn, Lanark, South Lanarkshire
No one can deny that the costs and delays of the Ferguson ferry are a mess, albeit with the best intentions of helping Scottish shipbuilding, and unhelped by numerous design changes and Covid disruptions.
However, to put things into perspective, the costs over budget are far less than the mismanagement of the Edinburgh trams project or the Holyrood building under the Labour/Lib Dem coalition, and are insignificant compared to the ongoing costs of the very dear Labor PFI building. contracts imposed on Scottish health boards and education authorities.
None of this can match the cost of Brexit and many examples of Westminster waste, including the awarding of a Brexit ferry contract to a company that owned no ships and never operated a canal service. The modernization of the Palace of Westminster is expected to take 30 years and cost £6 billion. Billions have been wasted on Covid contracts awarded to inexperienced companies set up by conservative donors and their cronies.
The UK government on Wednesday unveiled a report by the independent budget watchdog that the government bailout of bankrupt UK energy supplier Bulb will cost taxpayers an additional £500million over two years, bringing the full support required to £2.2 billion to cover the costs of running the business. costs over the next two years.
A timely reminder of the cost of Thatcher's deregulation using 'Scotland's Oil' money and making the City of London the money laundering capital of the world.
Read more
Read more
Ferry fiasco: asks Derek Mackay to testify before Scottish MSPs
The chasm of incompetence created by this utterly inept and corrupt SNP administration is getting deeper and deeper and while we voters should be appalled at the incompetence, we should also be ashamed. Their disastrous policies are costing real lives. Scotland's drugs death scandal is bad enough, but now we have the Royal College of Emergency Medicine estimating there have been 240 preventable deaths so far this year as people wait in A&E .
What a shocking indictment of this government's past promises. The Prime Minister flip-flops on accountability, one minute "the blame is on me" and the next minute the disgraced Derek Mackay is blamed for the ferry scandal. Surely at some point even a few of the mud trucks rightly thrown at the Prime Minister will stick?
To those who think independence will solve all our problems, keep dreaming. It doesn't take independence to demonstrate the incapacity and incompetence of Nicola Sturgeon and her cabal, now in plain sight. If the blame stopped with her and if she had an ounce of decency, she would quit.
Richard Allison, Edinburgh
While I am sure we all support the long-term vision of greener energy, we cannot ignore, in the short to medium term, the problem highlighted by the Ukraine crisis – the dependency of the UK and of Europe vis-à-vis Russia for oil and gas energy which, between now and autumn, will be marked by the fuel poverty of a very large number of households .
An illustration of the green fuel craze is the Drax biomass power station in Yorkshire. Drax cuts its trees in the Mississippi Delta, grinds them up, then transports the biomass chips in polluting ships across the Atlantic to Humberside and the Drax Power Plant.
What does Drax get out of this arrangement – well, in 2021 they got UK grants of £893m and when the scheme ends in 2027 they will have received grants of at least £11,000 £000,000.
Perhaps the Greens could postpone their headlong rush for wind power and back Shell's overhaul and back the development of the Cambo field and other medium-term energy sources, such as shale.
Nicola Sturgeon has accused the government in Westminster of delaying public spending in a disgusting effort to bribe the electorate. Please take note: the money taxpayers lost to the disastrous ferry fiasco could have helped to significantly reduce poverty in Scotland.
It was with disbelief that I read Nicola Sturgeon's accusation that Rishi Sunak, in his statement on Wednesday, was offering bribes to voters. The pot and the kettle do not cover the impudence of this assertion. What happened to all the freebies the SNP gave Scottish voters before the election?
Wasn't it only before the May elections last year that there were SNP promises of even more 'free' things that aren't free? I seem to remember bicycles and laptop computers appearing on this occasion. I assume they have all been delivered? No, actually, I don't know.
Jill Stephenson, Edinburgh
Thank you for publishing Professor Matthew Williams' compelling and compelling paper establishing how rapidly the health of planet Earth has deteriorated over the past 20 years – and describing how recovery is still possible through action following the findings scientists (Perspective, March 23). It was heartening to note that Professor Williams is a recently appointed scientific adviser to the Scottish Government.
Having read yesterday's account of the ferry debacle, implying the Scottish Government's disregard for expert advice and covering up the avenues of decision-making in a surprisingly naive way, it is to be hoped that scientific expertise and Professor Williams' communication skills can be put to full use in persuading citizens of what they can do individually and collectively, and the Scottish Government to develop effective and publicly visible strategies to advance biodiversity restoration and a clean future zero.
Jan e Griffiths, Edinburgh
Stuart Weir writes about caring for a dying person with "value and love" (Friends of the Scotsman, March 24). It has long seemed to me that the surest sign of love for someone is when you want what is best for that person more than you want what is. better for yourself. Those who are willing to spend more time mourning the loss of someone they love, rather than letting that person linger in pain, are surely showing great sacrificial love.
It would be wonderful if medicine could provide a perfect and tailor-made palliative treatment for each suffering individual, but as I have seen in the last months of my own mother's life, even the best care of this type cannot guarantee absence of pain, nausea and distress. Physician-assisted dying is a valuable, compassionate and loving option for our society.
Wendy Bellars, Pittenweem, Fife
Your thoughts are welcome. Write to [email protected] including name, address and telephone number – we will not print all the details. Keep letters under 300 words, with no attachments, and avoid "Letters to the Editor/Readers" or similar in your subject line. If you refer to an article, include the date, page number and title.
A message from the editor
Thank you for reading this article. We are counting on your support more than ever, as the change in consumption habits caused by the coronavirus has an impact on our advertisers. If you haven't already, consider supporting our trusted and verified journalism by signing up for a digital subscription. Click on this link for more information.