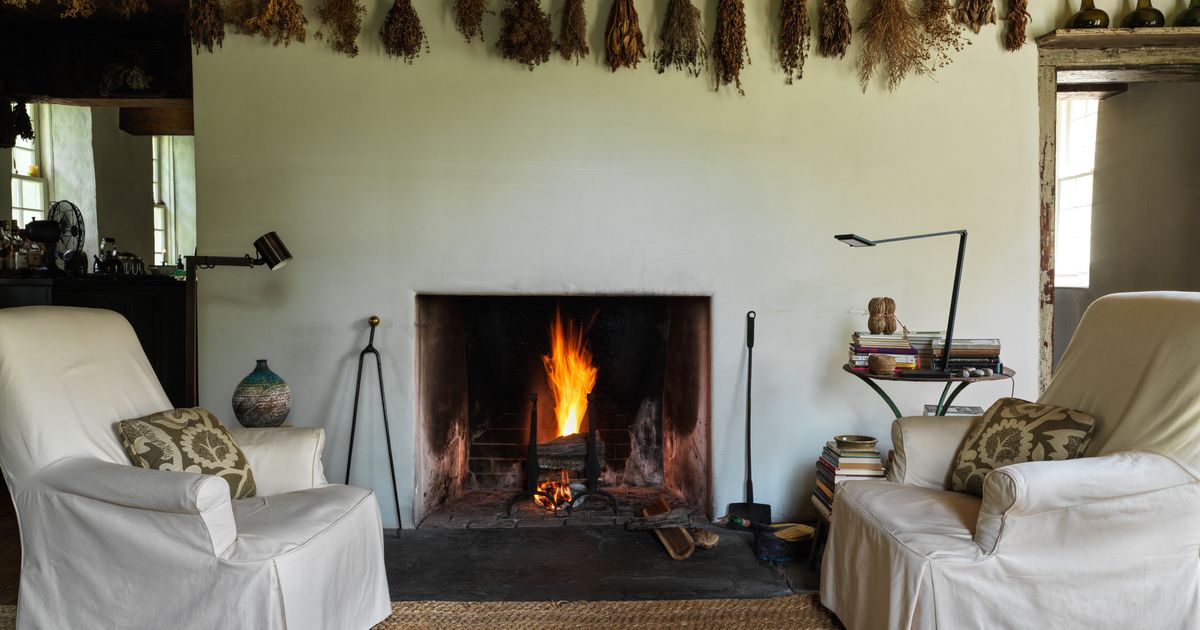 Visit a 1720s home in the Hudson Valley
The living room: Napoleon III armchairs by Niall Smith frame the fireplace. The couple plastered the walls, which featured "a hideous faux stone," says Robert Turner. "The dried herbs come from our garden, and the rugs in the living room and dining room are English-apple-apple rugs that need frequent watering to keep them soft. The ceramic vase on the left is by Peter Speliopoulos.
Photo: Chris Mottalini
They must have been very big, "said Robert Turner of the original owners of this nearly 300-year-old stone house overlooking a Hudson Valley cove that he and his partner, Pierre Speliopoulos, bought three decades ago. "Because normally in these Dutch houses I would hit my head on every beam. This one has unusually high ceilings.
Turner and Speliopoulos took a while to renovate the place beyond ridding the interior of the stenciled hearts and wreaths, added by the previous owner, which were a bit too quaint for their liking. Restoration and renovation work began in 1995 with architect Jim Joseph from Hottenroth + Joseph Architects. The couple reconfigured the second floor, carving out space in the hallway to create a guest bedroom (which some visitors said is haunted) and built an addition that included a library, entrance hall, and a second bathroom.
"There is something wonderful about preserving a historic house," says Speliopoulos. "And yet, not to live the old-fashioned way. We tried to clean that up and bring him back to his original bones, preserving his spirit. It's a very simple house, but I think it has a very nice quality, a soul.
They searched for antiques to decorate it in nearby Hudson and Rhinebeck, as well as New York City merchants, picking up fine English gateleg and taste tables and a Louis XVI daybed, among other finds. Their 18th century cabinet, known as the kas, could have belonged to the Dutch family who built the house.
Turner was a fashion editor at Vogue and fashion director at Harper's Bazaar before working with decorator David Easton; then he started his own interior design business in 1995. These days he focuses on philanthropy, serving on the executive committee of the Metropolitan Opera's board of directors and helping to support the Santa Fe Opera, the Carnegie Hall, the High Line and bam. He also signed the new opera Eurydice, by composer Matthew Aucoin, which premiered at the Met on November 23.
Speliopoulos, for his part, designed for Laura Biagiotti in Rome and for Christian Dior in Paris, and he was Creative Director for Donna Karan New York from 2002 to 2015. He has worked for 21 years with dancer and choreographer Karole Armitage, design costumes for his ballets. He has been exploring ceramics for ten years.
Their home was used for weekends and holidays until the pandemic hit and they settled in full time. Speliopoulos has created a pottery workshop in the cellar. The months spent there produced a work for his show last summer at Ateliers Courbet, "Chthonic". The title refers to Greek deities who inhabit the underworld, "deep in the earth and emerging," says Speliopoulos, "and I felt like it was parallel to the life we ​​were living during the pandemic. There was all this darkness and uncertainty and fear, and then as we started to see light at the end of the tunnel I felt these were optimistic signs of rebirth.