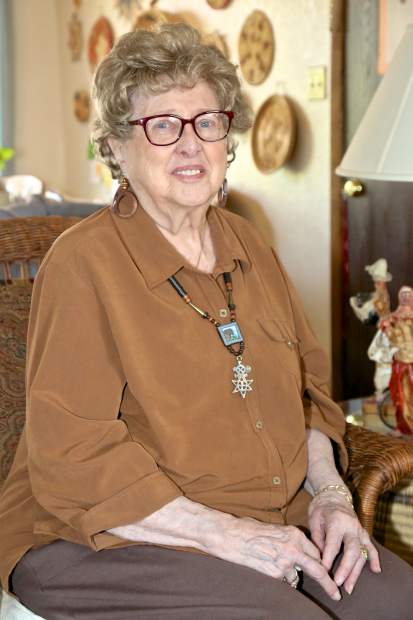 At 90, Phillips is still waiting to pass the torch of the ELL program
Florence Phillips of Carson City, Founder and Executive Director of the Northern Nevada English Language Learners In-Home Program.
Friday, September 17, 2021
Calls for tutoring keep coming in and applications continue to accumulate daily. At 90, Florence Phillips of Carson City, founder and executive director of Northern Nevada's English Language Learners In-Home program, doesn't know how to ignore them, but she knows she needs more help too.
And she hopes to pass the torch successfully and soon.
"It's not just about celebrating the program, but securing its legacy and providing the organization with the infrastructure and capacity it needs to continue beyond Florence and bring it to a place. where it not only continues with tremendous success, but it continues to grow, "said volunteer Nicole Draiss recently. "It's his vision, not just to maintain the status quo."
The organization has helped over 6,000 families; approximately 500 people have obtained their US citizenship and 450 tutors are available in the US and in 25 countries around the world. ELL has won over 20 US and international awards for his efforts.
Yet there are nearly 1,000 people on the organization's waiting list seeking help learning English as a second language through Phillips' program, improving their computer skills, becoming a U.S. citizen, obtaining or progress in their employment or acquire their general education diploma or achieve a number of other goals. Fifty-one are studying to become US citizens.
Phillips said she didn't even need to advertise through traditional means anymore.
"I get calls from clients of the Healthy Communities Coalition living in Fernley who want to learn English," she said.
Growth is no longer the concern, and the need continues to increase, Draiss said. There are now names on a waiting list to start her next three classes to become U.S. citizens.
But what is urgent is the freedom and flexibility to use the dollars as the organization sees fit and to help with the long-term infrastructure that could put the program in place for three to five years at a time. to come. Volunteers are useful, but what more could they accomplish if they could pay them? Draiss asked.
"Donors are very often very specific where they want their money to go, so they say, 'It can't go to salaries or allowances,'" Draiss said. "It's starting to change in philanthropy. "
Phillips' impact was felt from afar in part because of the pandemic.
"Prior to COVID, the name of the organization was the Northern Nevada ESL Home Based Program," she said. "Carson City continued to grow in Washoe County until it was finally in northern Nevada. Now we are all over Nevada and 36 other states and 22 foreign countries. We have an app in Ghana. We have a tutor in Australia who is teaching a woman living in Peru.
The international network has gone beyond the boundaries of the simple teaching of English. It means teaching customs, she said.
"If you are going to live here in America you have to know the idioms and you have to know the culture as well," she said.
And the stories continue to tell of the legacy and success of the program. With 92% of her population speaking only Spanish at first, she recalled that program assistant Ana – surnames are withheld to maintain confidentiality – entered without being able to speak English and had two young children. As a beginner, Phillips said, she needed the books, but she progressed quickly and eventually took on the role of administrative assistant because she had learned enough to use her newly acquired filing skills after learning the alphabet in English.
"She was motivated, dedicated and committed to me that she would come every day," she said.
A 65-year-old man just wanted to learn how to write his name in English. Putting him in touch with a tutor, the tutor taught him how to do it 20 times on a piece of paper.
"He looked at her name in tears and pointed at it and said, 'It's me, it's me,'" she said.
Phillips, who toured the Peace Corps three times in three countries and finally established the program in 2004, said it was important to maintain the program beyond herself.
"My vision has not changed," she said. "We have immigrants. My program is in 36 states and 22 countries. My vision is to have it in all 51 states. … We have people who are eager to learn English. … We have people who have the passion to help someone, to make someone's life.
Phillips has been recognized locally and nationally for his work, including being named the 2019 Carson City Chamber of Commerce Nonprofit of the Year and a 2018 CNN Top 10 Hero, receiving 10 $ 000 as well as training from the Annenberg Foundation as part of the honor.
For more information on donating to support literacy or becoming a volunteer tutor, visit www.eslinhome.org.